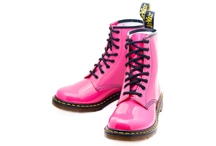 Quote of the day
'To me, entrepreneurship is correcting yesterday's mistakes. Like a dog returning to its vomit' - David Suddens, CEO of Dr Martens manufacturer R Griggs, seeks to explain his driving force during last night's Ernst & Young Entrepreneur of the Year awards. Gross...
Published: 04 Oct 2011
Last Updated: 09 Oct 2013
Find this article useful?
Get more great articles like this in your inbox every lunchtime