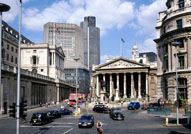 Quote of the day
'There's a lot of protest, but there doesn't seem to be much of a solution. What are we going to do, barter cows and donkeys again?' - Matthew Clapp, the director of a financial recruitment company, says he can't see what anti-capitalist demonstrations in London are going to achieve.
Published: 18 Oct 2011
Last Updated: 09 Oct 2013
Find this article useful?
Get more great articles like this in your inbox every lunchtime