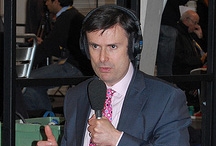 Quote of the day
'I made a total arse of myself at the #eicommentawards. And no, it wasn't a beautifully planned and executed comedy turn.' A red face for Robert Peston as he announces the wrong Economics winner at the Editorial Intelligence Comments Awards. He declared that Martin Wolf had won, when it should've been Irwin Steltzer. Still, at least he 'fessed up to the mistake on Twitter.
Published: 20 Oct 2011
Last Updated: 09 Oct 2013
Find this article useful?
Get more great articles like this in your inbox every lunchtime