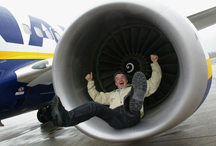 Quote of the day
'There's a whole golden circle on the board. Nobody resigns, nobody retires, nobody takes the blame. It's a big stitch-up' - Outspoken Ryanair CEO Michael 'oh, really?' O'Leary accuses airline Aer Lingus, of which Ryanair owns 30%, of 'lax corporate governance'. This is after a row about a 'flawed' redundancy scheme that landed the airline with a 29.5m euro (£25.4m) bill.
Published: 03 Nov 2011
Last Updated: 09 Oct 2013
.
Find this article useful?
Get more great articles like this in your inbox every lunchtime