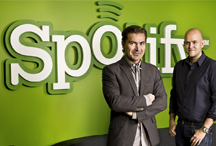 Quote of the day
'Got paid £8 for 90,000 plays. F**k Spotify.' Music service Spotify was at the centre of a huge row yesterday after electronic artist Jon Hopkins revealed his paltry earnings on Twitter. Hopkins, who has worked with Brian Eno, Coldplay, David Holmes, and others, is among a growing number of artists who are becoming dissatisfied with the platform. His complaint follows news that electronica label ST Holdings has pulled its entire catalogue from the service. The beginning of the end for Spotify?
Published: 18 Nov 2011
Last Updated: 18 Nov 2011
.
Find this article useful?
Get more great articles like this in your inbox every lunchtime