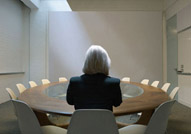 Quote of the day
'Companies have much to gain by defying assumptions and taking action to advance talented women' - Ilene Lang, CEO of women in business champion Catalyst, reacts to findings that women in the US have barely advanced up the corporate ladder since this time last year, with the number of board positions held rising (just) to 16.1%, compared with 15.7% last year.
Published: 15 Dec 2011
Last Updated: 09 Oct 2013
.
Find this article useful?
Get more great articles like this in your inbox every lunchtime