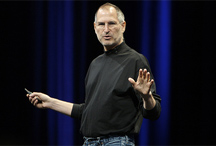 Quote of the day
'Steve Jobs is not a product... so I don't think Apple has the copyright of him' - Tandy Cheung, the boss of toy maker Icon, defends his company after Apple threatened to sue it for manufacturing a 12-inch doll of its late lamented CEO. The $99 (£63) doll comes with blue jeans, a black turtleneck and white trainers. His ever-loyal army of fanboys is, sadly, not included.
Published: 05 Jan 2012
Last Updated: 09 Oct 2013
Find this article useful?
Get more great articles like this in your inbox every lunchtime