Can rail electrification save the planet?
£1.1bn is to be spent greening the UK rail network, bringing overhead power to two key routes.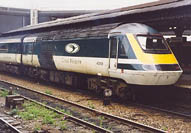 The plan, announced by transport minister Lord Adonis today, will be managed by Network Rail and is the biggest such scheme in the UK since the early 1990s. It will involve stringing high-voltage overhead power lines along some 300 miles of track, including the mainline route from London to Swansea and the shorter, but equally busy, line between Manchester and Liverpool.
And although reduced journey times are an obvious benefit (Swansea will be 19 mins closer to London as a result, woo-hoo) they are not being punted as the main reason for undertaking the work. Indeed, the service between London and South Wales is already a pretty fast one: London to Cardiff takes around two hours, by which time you might just have made it to Bristol on the M4.
No, the work is to be done in the name of saving the planet, or at least helping to. For although trains are already pretty eco-friendly by comparison with cars or aircraft, the diesel-electric trains currently running on the Great Western route are pale green at best. They are ancient for starters, being the 125 'High Speed Trains' that some of you may remember being advertised by Jimmy Saville back in the early 80s. When they were designed, no-one apart from a few climate scientists had even heard of global warming (or apparently of the need for functioning toilets, as regular modern-day passengers will attest).