Rail fares rise as flight costs fall
The apparently irresistible rise of rail travel is starting to look a bit less irresistible...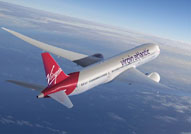 Earlier this year, it looked as though rail travel was set to be one of the big winners from the economic shocks convulsing the UK. As the price of fuel soared, many were predicting an end to the era of low-cost air travel – and with the trains offering a cheap, convenient and more environmentally-friendly alternative, they seemed perfectly placed to cash in. But it appears this interpretation ignored one important fact: that the UK's rail infrastructure is rubbish…
A new report out from the National Audit Office today suggests that rail passengers will have to endure even more overcrowding on trains in the coming years – and yet will be paying a lot more for the privilege. Although another 1,300 train carriages have been ordered, and the network infrastructure work continues to rumble on (albeit much more slowly than planned, with dismal predictability), the NAO suggests passengers will have to put up with increasingly packed trains for the next few years until this new capacity comes on stream.
Worse still, this is happening at a time when rail travel is actually getting more expensive. Regulated fares rose by 1% above retail price inflation in 2007, while non-regulated fares shot up by about 7% (including some that rose by as much as 20%). So although direct government control of the railways may have saved the taxpayer money by getting better deals out of the rail companies, this is presumably because they're making us stump up the difference. In other words, for passengers, the costs are going up even as the service is getting worse.