A rail ticket from Newquay to Skye? That'll be £1,000, please
A new high in the cost of UK train travel reminds us what a rubbish rail network we have here.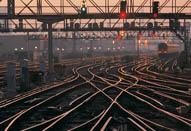 Our eyes nearly popped out of our heads today when we discovered that you can now pay over £1,000 for the privilege of taking the train from one end of Britain to the other. A first-class 'walk-on' return ticket from Newquay in Cornwall to Kyle of Lochalsh, opposite the Isle of Skye, will now set you back a whopping £1,002 – and that's assuming you skip the sleeper berth for the overnight section of the 20-hour journey. This isn't just ridiculous per se, it's also twice as much as it cost last year. And when you consider that Britain's high-speed rail network pales in comparison with virtually everyone else's, it's not totally clear why we're paying through the nose for the privilege of train travel...

According to a survey by 'rail expert' Barry Doe, as quoted in the Standard, the Cross Country fare in question rocketed from £486 in September last year up to £1,002 in May – and apparently there aren't even first-class carriages for two legs of the journey. Of course, this isn't the only inflation-busting fare hike lately (he also highlights the first-class 'walk-on' fare from London to Manchester, which has trebled from £135 to £387 in the 14 years since the railways were privatised - and so is presumably the sole preserve of people with generous expense accounts). But it's possibly the most egregious: you can buy a lot with £1,000, including a flight to just about anywhere on the globe (several if you fly Ryanair, assuming you stay off the Bullseye Baggies).

One of the main problems passengers face is that fares are just so unnecessarily complex; you need a supercomputer just to make sure you get the right ticket (certainly the station staff rarely have any idea). The system itself is a confusing mish-mash of regulated fares, which can only rise in line with inflation, and unregulated fares, which operators can use to squeeze as much money as possible out of those who fail to buy their ticket in advance. With passenger numbers falling in the recession, they're presumably even more likely to do this.

And it's worth remembering that our rail network is embarrassingly pathetic compared to those elsewhere. As Simon Caulkin points out in this month's MT, Britain has a measly 68 miles of high-speed track – compared to nearly 5,700 in China, 4,135 in France and 3,374 in Japan (even Belgium has more than we do). Now there's talk of building another fast line to the North – but with public money too tight to mention, we'll believe it when we see it. You can read his excellent piece 'Can Britain catch up in the high-speed rail race?' right here.

In today's bulletin:
Unions rejoice after GM U-turn on Vauxhall sale
Marks & Spencer takes a punt on Marmite to lift flat sales
Eco-friendly paint scoops the prize at Green Business Awards
Editor's blog: Dealing with Britain's fall from grace
A rail ticket from Newquay to Skye? That'll be £1,000, please