Rail travel at its highest level in 90 years
More of us are letting the train take the strain than at any time since the 1920s. But can we afford to keep doing it?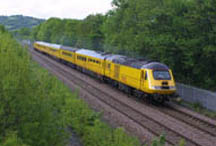 Looks like the rail industry has bounced back pretty well from the recession: no fewer than 1.32bn passenger journeys were completed in 2010. That's not just a big jump on the 2009 total (7%, to be precise) - it's the highest peacetime total since the 1920s. Higher petrol prices are one reason for this. But it's also true that the standard of train travel has improved dramatically in the last decade. The question is, though: if prices keep rising at the current rate - at a time when most people are seeing a squeeze on their take-home pay - will passengers still be able to afford to keep shelling out the fares in the years to come?
The 2010 figures, from the Association of Train Operating Companies, show that we're making as third as many train journeys again as we were back in 2000. Year-on-year passenger growth was particularly high in the summer - but demand was also well up in the last quarter, despite all that snow disruption. We might spend a lot of our time complaining about our trains. But it's 90 years since we were using them as much as we are now - and we've only got about half as much railway track as we had then.
So what's going on? Well, naturally ATOC reckons it's all to do with the improved customer proposition: cheaper tickets (apparently the average cost of a single journey inched down from £5 to £4.96), better services (more frequent and more punctual) and attractive extra features (the wider roll-out of Oyster, wi-fi and so on). We suspect not all passengers will be convinced about this. But it's also a relative thing: since car travel, which is the obvious alternative, has become so much more expensive as the cost of fuel has soared, the financial argument for taking the train has become more compelling.

Well, assuming you can navigate the extraordinarily complicated fares system, that is. ATOC is no doubt right that there are plenty of cheap tickets available; but if you miss out on them, or (accidentally) breach one of the complex rules dictating their use, it can cost a small fortune. And the normal cost of fares is going up all the time: the average rise at the start of 2011 was just under 6%, but some season tickets went up by more than twice that.

The trouble for the train operators - and us - is that we're seeing another notable parallel with the 1920s at the moment (as highlighted by Mervyn King last week): a decline in real-terms take-home pay, set against a backdrop of massive Government spending cuts. If most of us are a bit worse off than last year, can we really keep absorbing inflation-busting fare rises - regardless of how much better the service has become...?