Rain can't dampen Sainsbury's prospects
Delta Two, the Qatari investment group looking to buy Sainsbury's, might have deep pockets and a long-term outlook. It's just a shame they can't promise to bring some Qatari weather with them too.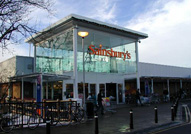 The supermarket chain reported its quarterly results today (which could soon be a thing of the past, if Delta Two gets its way) and said that like-for-like sales grew by just 2.6% over the summer, less than expected. Like rivals Morrison and Tesco, it blamed the dismal weather for keeping customers away – a problem it didn't have last year, when the sun was shining and the World Cup was adorning our TV screens.
On the other hand, Sainsbury's still managed to outperform its competitors, showing that Justin King's turnaround plan continues to bear fruit. Sales growth in the first half was higher than Tesco, while the group is now only £200m short of the £2.5bn sales growth target King promised to hit by March 2008.
So it's no wonder that the UK's pathetic excuse for a summer doesn't seem to have dampened the ardour of the Qataris, who continue to inch slowly towards a formal offer for the chain.