Rates slashed as bail-out fails to calm jitters
The Bank of England has cut interest rates by 0.5%, just hours after the Government's massive £500bn bank bail-out...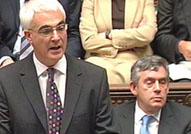 It's all been happening today: this morning the Government announced an inordinately expensive bail-out of the banking sector, one of the most ambitious public financing schemes in history – although it couldn't prevent markets tanking again in early trading. Now the Bank of England, along with six of the other big central banks, has suddenly announced an emergency 50bps cut in interest rates – the kind of co-ordinated international action that the markets have been demanding for some time. So UK rates are now down to 4.5%, we're in hock to the banking sector for £500bn, and the markets are all over the place. It's hard to keep up…
First up today was the Government's long-awaited rescue package for our major banks – and given the huge sums of taxpayers' money involved, it's a pretty bold undertaking. Based on a Swedish model from the early 1990s, it's a semi-nationalisation in three parts. Most people are focusing on the £50bn of taxpayers' cash – £25bn now, and another £25bn later – that will be available for investment in our biggest banks (so far Abbey, Barclays, HBOS, HSBC, Lloyds TSB, RBS and Standard Chartered, plus Nationwide Building Society) in exchange for preference shares. But there's more: the Government's also doubling the Bank of England's Special Liquidity Scheme (which allows banks to swap assets for cash) to £200bn, and promising to guarantee every bank's borrowings for up to 3 years – a liability of about £250bn. All in all, that amounts to around £500bn of public money – which is a lot of hospitals, schools and so on. And there has to be a chance we won't get all this money back.
Initially, the market reaction was pretty lukewarm, with the FTSE immediately falling by almost 200 points. The problem is that all this money will obviously come with strings attached. These preference shares (which carry no voting or dividend rights but pay out a hefty rate of interest - and can hopefully be sold for a profit later on) will dilute current holdings. What's more, the exact amount of Government investment will be dependent not only on each bank's 'commitment to support lending to small businesses and home buyers', but also 'dividend policies and executive compensation practices', according to the Treasury. All of which could be bad news for shareholders.