RBS accused of sending businesses to the 'hit squad'
A report into behaviour at RBS has claimed it forced small businesses into trouble to make extra revenues.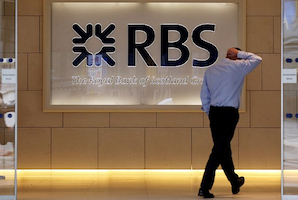 Things were never going to be easy for RBS' newbie chief executive Ross McEwan and today is shaping up to be a particularly hard one for the Kiwi – his bank stands accused of exploiting struggling companies and needlessly pushing them into financial strife.

A report released today has claimed the bank shovelled 'promising' businesses into default so it could charge them exorbitant fees and take their assets for knock-down prices.

Business secretary Vince Cable has sent the report, by government advisor Lawrence Tomlinson, to the Financial Conduct Authority and the Prudential Regulation Authority for further analysis, but said the evidence in the report looked 'solid.'

At the centre of the allegations is the bank's Global Restructuring Group (GRG) – which looks after the 'riskier' loans (and is referred to by some businesses as the 'hit squad'). Tomlinson, an entrepreneur currently advising Cable, says RBS generated revenue by putting businesses into this division and putting 'good and viable' firms into it without proper cause.

The allegations are extremely serious and if proven to be true, could lead to legal action against the bank.

'We want to be absolutely clear that this kind of thing is not going on today,' said Vince Cable.

'I am, however, confident that the new management of RBS is aware of this history and is determined to turn RBS into a bank that will support the growth of small and medium-sized businesses.'

Well, if they weren't aware, they certainly are now. Tomlinson conducted his research by talking to multiple small businesses and found a perception among them they were being 'purposefully distressed' in order to push them into the GRG.

'I feel really sick sometimes. It is really disturbing,' said Tomlinson.

'It is ruining people's businesses for sure, and in some cases having a huge impact on their personal lives too, even leading to family breakdown.'

As if the claims by Tomlinson weren't bad enough, a second report also released today makes similar accusations against the GRG. Sir Andrew Large was commissioned to produce a report into lending by RBS in July and said a number of borrowers have made severe allegations against the bank about the way they were treated when they showed signs of financial trouble.

'We are already committed to an inquiry to investigate how customers are treated by RBS when facing financial difficulties and ensure that we provide them with appropriate support,' said RBS in a statement.

The 81% state-owned bank has been in a hurry to clean up its balance sheet following the decision by George Osborne to create an interior 'bad bank' to manage its 'toxic loans.' If the claims are found to be true though, that excuse won't wash..

'To artificially distress otherwise successful businesses in order to seize their assets and profit would be utterly scandalous and deplorable,' said Chukka Umunna, taking his chance to stick the boot in.

'It's right that the FCA and PRA look into the claims as a matter of urgency.'

McEwan has already commented that the report by Sir Andrew Large (into its lending practices) will make for uncomfortable reading; with Tomlinson's report coming in on the same day, 'uncomfortable' could turn out to be the understatement of the year.