RBS adds to gloom with another 3,000 job cuts
RBS is preparing to cut 3,000 staff - although given its parlous financial state, this isn't a huge shock.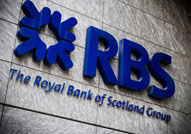 The ailing Scottish bank said this morning that it plans to give about 1,000 of its UK staff the boot, plus another 2,000 people from its workforce across the world. Given that the bank's finances are in such a bad way that it's been forced to ask the taxpayer for about £20bn, this shouldn't come as a massive surprise to anyone. But after a week in which the likes of BT, Virgin Media and Yell have all announced swingeing cuts, it's only going to add to the general despondency.
However, in this case there may be a distinct lack of sympathy for those affected, since all the redundancies are going to come from the bank's global banking and markets division – in other words, the bankers and traders widely blamed for getting RBS into this mess in the first place by being far too free and easy with the bank's money (though let's not forget its misadventures in the US sub-prime market, and paying a fortune for ABN right at the top of the market). So its retail staff shouldn't be affected, but its City presence certainly will.
Since the cuts are only happening now, after the Government has agreed to pump in a huge injection of public money, there's naturally been speculation that new CEO Stephen Hester has been browbeaten into this by the Treasury. However, the bank has denied that today's decision was anything to do with the Government, suggesting it was just doing what everyone else was doing in response to market conditions (albeit a bit later).