RBS beats the rap for record
Credit market deterioration? Expensive takeover battles? Apparently all in a year's work for Sir Fred Goodwin and Royal Bank of Scotland, which said this morning that it's on course to deliver record profits of more than £10bn in 2007 - despite a £1.5bn write-down.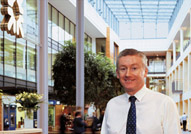 In a pre-close trading update today, RBS said its full-year profits would be 'well ahead' of market consensus of £9.8bn, despite the costs of its ABN bid and despite its losses from the US sub-prime debacle. Sir Fred said the bank's 'consistently strong performance' was all down to the 'diversity and quality of the Group's business platform'.
Beating Barclays to ABN may have been a costly business, but integration is going so well that the takeover is likely to produce even better financial returns than originally expected, 'Fred the Shred' also crowed this morning.
The bank's size and strong retail business has been a major factor in its continued success: according to the BBC's Robert Peston, it's taken deposits of about £800m in recent months as customers shift their money out of the likes of Northern Rock and into a bank that's perceived to be more stable.