RBS becomes the Royal Bank of All of Us
As of this morning, RBS is officially 58% owned by the Government. We're a load of bankers now...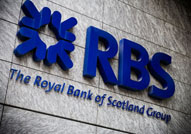 RBS said this morning that hardly any of its investors had taken the opportunity to buy shares in its latest offering – which was not really surprising, given that the shares were for sale at 65.5p and you could buy them for 55p on the open market yesterday. As a result the Government, as underwriter, has bought the remaining 23bn shares at a cost of about £15bn. So the state – and by extension all of us taxpayers – now owns a 57.9% stake in an ailing Scottish bank. Just the kind of early Christmas present we all wanted, right?
Although it's not technically a nationalisation (in the way Northern Rock and Bradford & Bingley were), the Government is now the majority shareholder in what was until recently Britain's second-biggest bank – an institution with assets of £2,000bn (including Dutch bank ABN Amro and a $3bn stake in the Bank of China). It's spent nearly £15bn of public money buying these shares, plus another £5bn buying preference shares (which will get repaid first). So it's perhaps the most significant state bail-out yet.
Disappointingly, we're already out of pocket on the deal – the languishing share price means that the Government is sitting on a paper loss of more than £2bn. And that's not to mention the £1,900bn of RBS liabilities that we're effectively shouldering as a result. The structure of the deal means they won't go on the public balance sheet (which is a good job – as the BBC's Robert Peston pointed out today, that sum's equivalent to 140% of GDP) - but as the biggest shareholder, the Government is basically vouching for this huge debt, which isn't going to do wonders for our national credit rating (apparently it's now cheaper to insure the debt of Unilever than the UK...)