RBS humbled in massive state bail-out
The government is set to pump £37bn of taxpayers' money into three of our biggest banks...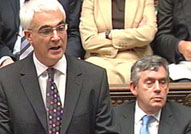 It's been another extraordinary day in Britain's embattled financial sector – perhaps the most extraordinary of modern times. The government has effectively nationalised one of Britain's biggest banks, the Royal Bank of Scotland, and will become the biggest shareholder in another, the combined Lloyds TSB/ HBOS behemoth (assuming the merger goes through on revised terms) - at a cost of no less than £37bn to the public purse. What's more, Barclays is being forced to raise another £6.5bn of capital to bolster its balance sheet, although it's insisting it will scrape the pennies together from the private sector rather than going cap-in-hand to the Treasury. Oh, and Britannia is merging with Co-op's financial arm. All in all, a pretty humbling day for the sector that was until very recently the jewel in Britain's business crown...
Royal Bank of Scotland's is perhaps the most remarkable fall from grace. The government has agreed to provide £20bn to the ailing bank - £5bn of preference shares, plus another £15bn of ordinary shares if (as seems inevitable) current shareholders fail to cough up. Since this is more than the bank's currently worth, it effectively means that the bank is being nationalised – the government will be left with a 60% stake, bought at a discount of about 10p a share to its closing price on Friday. Not surprisingly, this is one humiliation too far for CEO Sir Fred 'the Shred' Goodwin – he's being replaced by British Land boss Stephen Hester (as predicted last week), while chairman Sir Tom McKillup will also be leaving the bank in April.
Meanwhile Lloyds TSB has chosen to renegotiate its merger with HBOS, after the two banks were forced to ask the government for a total of £17bn. This would leave the state with a 40% stake in the combined entity, which as of today is looking a much less attractive deal for HBOS shareholders: LTSB is now proposing to pay 0.605 shares for every 1 HBOS share (rather than 0.83). Barclays shareholders will also be miffed by today's news: as well as being asked for more capital (albeit to prevent being diluted by the Treasury), they'll also have to give up their £2bn final dividend.