RBS isn't out of the woods yet
Profits rise 27%, but further fines and a shrivelled investment bank threaten to spoil the party.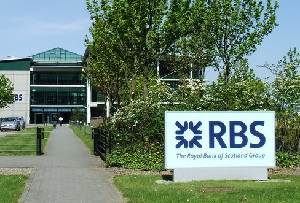 On the face of it, RBS shareholders (that means you George Osborne) should be cheering after the bank released its second quarter results today. Attributable profits were up 27% to £293m for the three months to June 30, even if the bank still can't pay a dividend.
Compared to last quarter, it's even better – RBS made a loss of £446m at the start of the year. Indeed, analysts expected another loss this time round, an error which usually sends the markets into a frenzy (just look at Amazon). So why has the share price only risen a measly 0.5% to 355p?
The sunny headline profit figures obscure a darker and more complex picture. RBS is still in the throes of a painful and costly metamorphosis, from the acquisitive, high-stakes playboy of the Fred Goodwin era to a smaller, more austere creature, the type that owns the four identical pairs of the same shoes and polishes them every night. Think of it as a sort of rehab.