RBS losses balloon and more Brits than ever go bankrupt
RBS is £1.5bn in the red after write-offs on bad loans tripled, while 35,242 of us went bust this summer.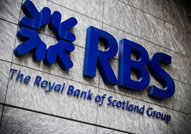 The announcement from RBS concludes a busy week in which the bank received a further £33.5bn cash injection from the government, taking the total spent on bailing it out so far to £53.5bn. That makes it the most expensive bank rescue anywhere in the world to date. Sir Fred Goodwin must be very proud. Since RBS is now owned 84% by the state, perhaps it should be renamed the Royal Bank of Britain?
The loss is in stark contrast to Q3 2008, when the bank posted a £2.3bn profit. But then quite a lot of water (not to mention plenty of red ink) has passed under the bridge since then. Bad debts for the first nine months of the year so far stand at £10.8bn, up from £2.8bn last year, and chief exec Stephen Hester expects write-offs to continue at the same level next year and doesn't expect to return to profit until 2011.