RBS made just £2m profit last quarter
The bank pockets another £1.1bn from the sale of Citizens in the US, but that only disguises further trouble ahead.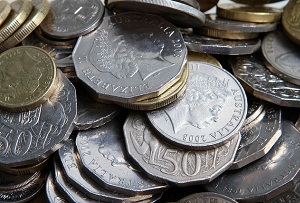 How much money did RBS make over the last three months? It's a simple question but, bank results being what they are, there isn't one answer. Its headline figure, the amount of profit attributable to RBS shareholders for the quarter to the end of September, was £952m, up 6.3% on last year. George Osborne will be happy.
While the bank might prefer us to bask in that number's warm glow for a few minutes, it must be pointed out that this includes the £1.1bn disposal of most of RBS' stake in Citizens bank in the US (it now owns 20.9%, which it also intends to divest). Ignoring that one off boon, RBS' pre-tax operating profit was a mere £2m, down 99.8%. Not so warm.
Hold on, you might ask. What about restructuring costs and all that money the bank keeps setting aside for litigation? In the last three months, RBS spent £847m on shrinking its investment bank (down from over a billion last quarter, but up on last year's £167m), and £129m clearing up after the various scandals of past years, notably mortgage-backed securities in America (remember them?).