RBS shares boom on 'bad bank' performance
The state-owned bank says its bad loans aren't doing as badly as it had thought. Which is good.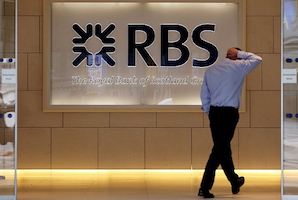 The economic recovery and rising property prices in Ireland have allowed RBS to free £800m that it had set aside to cover losses on bad debt, the bank announced this morning. RBS shares spiked 3.5% after the bank issued a trading update today, ahead of its full Q3 results on October 31st.
RBS said £500m had been released from the £4.5bn provisioned to cover expected losses, or impairments, on assets in its euphemistically-titled Capital Resolution division, otherwise known as the 'bad bank' or RCR. Not the sort of place where you'd want to open a current account, this is where the 81% taxpayer-owned RBS has set aside the £29bn of assets it desperately wants rid of by the end of 2016.
The bank singled out improved economic conditions and Irish residential property prices as key to the better-than-expected performance in RCR and in Ulster, where it has been able to free up another £300m in provisions.