RBS sinks amid funding fears
RBS shed a third of its market value this morning, after reports that it's seeking fresh capital from the Government...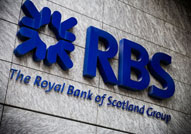 Banking stocks took yet another hammering this morning: the once-mighty RBS saw its share price tumble by an eye-watering 40% at one point, amid rumours that the UK's leading banks have been badgering the Treasury to put its money where its mouth is and inject some capital into the sector. At 9 o'clock this morning RBS shares were changing hands for a miserable 90p – an 81% drop from its annual high of 469p. Although it did recover slightly in later trading, it's increasingly clear that until something drastic happens, the chances of a banking recovery are non-existent…
RBS wasn't the only one to suffer: most of the big banks have been in freefall today, after the latest Treasury press release – sorry, Robert Peston exclusive – revealed that Britain's top bankers met with Chancellor Alistair Darling last night, to discuss the Government's plan to buy up equity stakes in our banks with taxpayers' money. According to Peston, the banks want this money sooner rather than later – RBS, Lloyds TSB and Barclays are all after £15bn of fresh capital, he says (although Barclays have already denied this outright). Since this doesn't exactly imply a great deal of confidence in their current positions, it's not surprising that investors have been spooked today. And Standard & Poor's haven't helped by downgrading RBS's credit rating.
As ever, there's been no shortage of bad news on the economic front this morning: the meltdown in Iceland continued with the nationalisation of Landsbanki (see Editor's blog), while those cheery sorts at the British Chamber of Commerce warned the UK was 'already in recession' following more grim figures on industrial output. In fact, apart from a bigger-than-expected interest rate cut in Australia, nobody's had anything to shout about. And after yesterday's record fall in the FTSE (in points terms at least) we really needed it…