RBS takes another hit ahead of £20bn cash call
As RBS prepares to raise £20bn with government help, it slides even further into the red...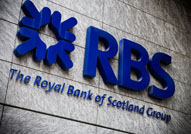 RBS said today that it took another £206m write-down on its dodgy credit market assets last quarter, adding to the £6bn hit it took in the first half. Despite a complicated accounting manoeuvre that boosted earnings by over £1bn, it also said that further write-downs, an increasing number of bad loans and the general economic downturn will probably mean it makes a loss this year for the very first time. Hence it's being forced to go cap-in-hand to the Treasury for a whopping £20bn...
RBS finished the first half nearly £700m in the red, and new chief executive Stephen Hester admitted to the BBC this morning that 'people may conclude that profits will be difficult to achieve' for the year as a whole (if the RBS gig doesn't work out, he could have a great career in the civil service with double-speak like that). And he seems to be in no doubt about why: he said the bank had lent far too much money when times were good, and was now suffering the consequences. It suffered badly in the sub-prime meltdown, and its top-of the market acquisition of ABN Amro last year left it badly exposed when the markets went south. Its next challenge will be its growing number of underperforming loans, which increased to 1.72% of the portfolio last quarter (up from 1.47%) – the more people default, the bigger RBS's losses will be.
After this annus horribilis, it's no surprise that RBS's balance sheet is full of holes. Today it confirmed plans to raise nearly £20bn in extra capital: the government will buy £5bn of preference shares, and also underwrite a £15bn cash-call. Technically speaking, this is supposed to let the bank raise the money from existing investors (at 65.5p a share) – but since it's only a few months since they backed a £12bn cash-call, it's a bit hard to imagine that they're going to dig deep again. So the likely result will be that the Government ends up stumping up the vast proportion and taking a huge stake - possibly as big as 60%.