RBS won't sell 'stinky' assets
In results posted this morning, the bank nixed plans to split itself into 'good' and 'bad' banks.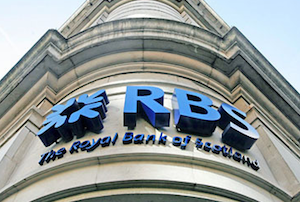 So much for those plans to split RBS into 'good' bank and 'bad' banks - for now, the toxic (or 'stinky', as Robert Peston called them this morning) assets will remain on its balance sheet.

Third-quarter results published by the bank this morning showed its management has decided to ringfence its £38bn of bad loans and manage them as a sort of internal bad bank. New chief exec Ross McEwan, who quietly assumed his role at the beginning of last month, added that he wanted them to be sold off in the next three years.

The results made one thing abundantly clear: RBS, which is 81% owned by the government, isn't going to be fixed enough to re-privatise for several years – probably not until after the election. Things just aren't going well enough: this morning's figures showed the bank made a third-quarter pre-tax loss of £634m: pretty dire, considering analysts' expectations had been about £440m. Although not, admittedly, as dire as last year's £1.4bn loss. The bank has also set aside another £250m for PPI claims, bringing its total charge up to £2.6bn.

The decision not to split the bank flies in the face of advice from the likes of Lord Turner, ex-Bank of England governor Mervyn King and even the Archbishop of Canterbury.

But the bank's management is adamant: not only will a split cost too much – an earlier report suggested it would be something in the region of £1.8bn – but it'll take too long. To get it into a position where it can be sold, the bank will first have to IPO its US arm, Citizens, which it hopes to do next year. Then it'll have to build up its core tier one capital to about 12%. But let's face it, if the government can at least have set the wheels of privatisation in motion before the election, that'll win it big brownie points.

George Osborne is widely acknowledged to be the puppet master behind all this: he was thought to be the person who decided former chief executive Stephen Hester was going to hinder RBS' reinvention as a retail bank, and he's always been against splitting the bank. In recent months, the bank's relationship with the chancellor had become terse, but this morning, McEwan talked about 're-setting relations'.

'We should listen to the 81% just as much as the 19%. Our interests are aligned. [The chancellor] would like to sell shares at the appropriate time and we would like him to sell shares so the UK taxpayer can get its money back,' he said.

The worry is that all this haste will mean aforementioned taxpayer won't get quite as much of its money back as it had hoped – a la the Royal Mail privatisation, which was seen as underpriced. Then again, there's the argument that governments aren't very good at running banks – so the sooner it gets rid of RBS, the better.