Published: 28 Oct 2019
Last Updated: 28 Oct 2019
Management Today has never seen Paul Smith's desk, but it's probably the one with the pile of books perched perilously on the corner. That's because Smith is a binger – at least when it comes to reading. Although he reads to "learn and think", the pressures of work mean he's more likely to let the books pile up on his desk, then chew through the whole lot once he's acquired a sufficient stack.
Smith took over the job of executive vice-president and UK general manager of CRM giant Salesforce in February, having spent eight years growing the company's marketing cloud business across Europe. He now steers a UK division employing 1,800 people and hopes to push revenues above $5bn within the next five years.
Maybe a Kindle would help him? No, for Smith it's paper wherever possible. He's the same with news, preferring the ritual of reading a newspaper to the ease of digital delivery – ironic, perhaps, considering he's the boss of one of the UK's biggest tech firms. Here Smith shares his favourite reads.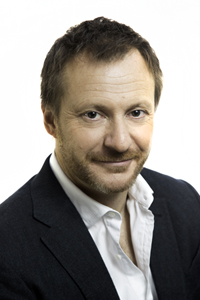 "The most influential book for me is Slaying the Dragon by Michael Johnson, the US sprinter. When I was at Microsoft, he used to do some leadership coaching, primarily on goal-setting. He's not a management guru, but talks plainly and simply about how he achieved great things. Wearing gold running shoes at the start of the Atlanta Olympics was a bold statement to make when he hadn't been on great form for two years.
"But he was just so supremely confident in what he was going to achieve because he'd broken down his prep into micro goals. I'm a big believer in the fact that everything we accomplish is just about turning a massive goal into measurable, achievable steps. It's mandatory reading for anyone on my team.
"The First 90 Days by Michael Watkins is especially good if you're in a fast-paced business where change is a fact of life. It argues that how you adjust and diagnose a new business quickly is key. On Managing Yourself, a collection of articles by Harvard Business Review, is also worth a look. Moneyball by Michael Lewis has a simple message: don't get stuck in the status quo, follow what the data says, do more of what works, repeat.
"Capitalism Without Capital by Jonathan Haskel and Stian Westlake explores how the growing importance of intangible assets has played a role in some of the larger economic changes of the past decade. Freakonomics and the sequel SuperFreakonomics by Steven D Levitt and Stephen J Dubner are downright fascinating and a reminder to not just go with the obvious explanation, but take a look at what lies beneath."
Other recommendations
Audio books
"After the Ecstasy, the Laundry by Jack Kornfield. He's a trained Buddhist monk."
Films
"Star Wars, Seven Samurai, Le Mans and Whiplash."
Ernest Shackleton
"He was asked about leadership and what he learned from surviving those extraordinary Antarctic adventures. It was something along the lines of 'I've got no clue about leadership because the people involved in leading are up to their eyeballs and never have time to sit back and reflect.' While I'm not leading people in the Antarctic, it can feel the same, sometimes.
---
Image credits
Main: Hulton Archive / Stringer
Body: Salesforce