Read our new blog: John Vincent's Life of Enterprise
John Vincent of Leon Restaurants writes exclusively for MT about his life as an entrepreneur...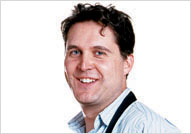 For MT's brand new blog site, we wanted to get a view of entrepreneurship from someone on the ground, a voice of experience who could give us their take on what it's like to conceive and grow a business, and to keep their baby safe when the going gets tough.

So we're proud to have secured the services of John Vincent, the co-founder of healthy-eating restaurant chain Leon. A typical entrepreneur, John's not short of opinions - or a project or two. As well as building his £10m food business, he also runs investment firm Vasari Global, whose past successes include turning Scotch whisky maker Whyte and Mackay from a £200m business to one worth a tasty £600m.
But it's not all about the moolah. Or even about companies. John reckons entrepreneurship is more about driving the world's progress. In his first instalment, after introducing himself with an unlikely comparison to Strictly Come Dancing, John launches into his rallying cry: 'We can't let governments and big companies strip us of freedom, courage, love, creativity and a sustainable society.' So yes – don't just expect another small business blogger moaning about how tough it is to get an overdraft.
John believes there are a few types of entrepreneur: the lifers, the sector specialists, and those 'whose eyes and thoughts wander more widely', and whose enterprise grows from an all-consuming desire to simply make stuff better. If this resonates with you, you'll love John's rousing, witty and informative blog, A Life of Enterprise. Read his first instalment here…