Read The Parent Project, MT's great new blog
Our brilliant new blog examines the ways in which having children changes your professional life...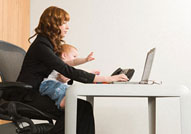 How do you balance work with parenthood? Is there ever a right time to have babies? What's the best way to deal with maternity leave? Do Dads get a raw deal? How far does UK plc really embrace the idea of flexible working? Has being a parent made you more or less stressed, or ambitious, or loyal to your employer? Are we putting too much emphasis on work and money rather than family?

These are some of the questions we'll be looking to address in our new blog, The Parent Project. In the coming months, a variety of writers will be sharing their experience of pregnancy and parenthood, with the aim of building up a resource (and a community) that can offer advice and support to working mothers and fathers everywhere.

The first of our brilliant contributors will be Christine Armstrong, a director at ad network BBDO, who's currently on maternity leave after giving birth to her first child in August. Over the next few months, she'll be looking back at her experience of being pregnant at work – the embarrassing conversations with colleagues, the spine-chilling labour tales, the various travel traumas, the differences in attitudes overseas, the pre-maternity planning, and much more.

We'll also feature contributions from experts in the field, who'll be looking at ways to address some of these problems, and explaining how the UK's most progressive companies are starting to deal with them.

And just as importantly, we want to hear from you. How was the maternity (or paternity) experience for you? How has it changed your professional life? What advice would you give to would-be parents? Make sure you tune in and let us know – and spread the word to anyone else that you think would like to get involved, even if they're not usually an MT reader.

Naturally all ideas and feedback welcome – please send to the usual address, editorial@managementtoday.com.
In today's bulletin:
Last chance saloon for Punch as losses soar
Mandy races to Vauxhall workers rescue
Tesco's Sir Terry wants to fix our schools
Work/life balance good for the bank balance
Read The Parent Project, MT's great new blog