Do you really want to know what your colleagues think of you?
Just how useful is 360-degree feedback?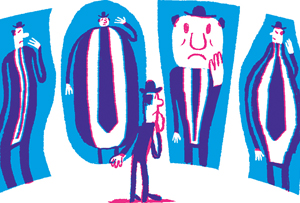 What could be worse than entering a room full of mirrors that present back to you every blemish with ruthless candour? With 360-degree feedback (asking co-workers for 'frank' opinions), the images aren't true, but anonymous informants' conjured portraits of you.
It is no wonder that the most senior ranks excuse themselves from the process. When 360-degree comes within shouting distance of performance evaluation, the system is readily gamed: handpicking respondents, acting up to bosses and let's-scratch-each-others'-backs peer agreements.
Yet, in a climate of trust, engagement and community, it can be powerful, and in training courses, free from company involvement, it is a great tool for insight and development. Two prerequisites. One: questions are short, open and not too many, and the ones that those involved want to be asked. Two, results are delivered best in learning groups, by trained coaches and facilitators.