Rebekah Brooks 'received £7m pay-off' for NI resignation
The former chief executive of News International received a payout worth £7m when she resigned from her post last year.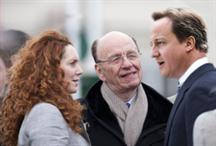 The phone-hacking scandal has gone a bit quiet since all the Leveson interviews petered out, but last night it emerged that Rebekah Brooks, the boss of News International who resigned at the height of the scandal, received cash, pension payments and a legal fees allowance totalling £7m.
She will no doubt be thoroughly using up that legal fees allowance, as she currently stands accused of conspiracy to pervert the course of justice over the phone hacking scandal. Defending that case will need some expensive lawyers…
Apparently she also managed to keep the use of a chauffeur-driven car after her 20-year career with Rupert Murdoch's firm came to an end. And in a sense, it was always clear that she would come away with a cushy deal: when a journalist asked Murdoch after Brooks' resignation what his priority was, he replied 'this one', pointing at Brooks.