Rebel with a cause: Shawbrook Bank's Ian Henderson
The challenger bank's chief exec talks marble statues, The Pixies and life after Barclays.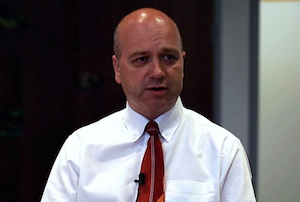 'We're not interested in the trappings of the City,' Shawbrook Bank's chief executive Ian Henderson tells me, as we sit amid the clinking and chatter of the Royal Exchange café, in the heart of London's banking district.

'If you go to Shawbrook you won't see marble-lined walls, there are no fancy statues or works of art – we're about making sure we give our clients a good deal – we're a shrine free zone.'

It sounds a bit glib, the whole 'we're just interested in our customers' shtick, but so far Henderson isn't bluffing about not taking the usual City route. Shawbrook, one of the UK's newest banks, is headquartered in Brentwood (that's Essex for the uninitiated), it has another office in Glasgow and only a 'small, temporary space in London.'

'More and more business is being done in London so there might be a need to expand and get a permanent space here but to be honest it's right down my list of priorities,' Henderson drawls in his heavy Glaswegian tones.

Shawbrook is one of a number of challenger banks which has sprung up post-recession to take-on the dominance of the 'big five'. Founded in 2011, it wants to fill the lending gap created by tightening purse strings at the UK's largest banking institutions; it passed the £1bn lending milestone in September and has just introduced the best buy rates on its bond and notice accounts. 'From nothing to balance sheets of £1.4bn and 40,000 happy customers – we've worked quickly,' beams the Scot.

Henderson was drafted in as chief executive almost a year ago from his previous role as chief executive at RBS International, before that he was chief operating officer at Barclays Wealth. With such a pedigree, many are wondering how he can claim to be a challenger at all?

'When criticism is aimed personally at me, I'm in a fortunate position to be able to say my fingerprints are not in any of the areas which have seen difficulty,' he says.

'RBS International was deposit driven, not lending driven and one of the parts of the bank that was generating some of the blood transfusion that kept RBS going during the crisis. In Barclays I worked in wealth management and was well clear of the Libor and interest rate issues.'

Off the hook for now you might say. But it gives Henderson an even bigger reason to try and differentiate through actions as well as words.

'We don't want to be a Barclays or an RBS, we want to be a specialist lending and savings institution – focusing on niche markets where demand is not being served well.'

One such market is small businesses lending. Henderson is no fool, at a time when the bigger banks are being criticised for not lending enough to business, Shawbrook is positioning as a small business lender – one that says 'yes' more often than 'no'.

'The 'big five' say there's no demand but that is obviously not the case,' he says. 'Evidence suggests at any point across the UK, a third of businesses have a need for debt finance – the key for me is to make sure we're ready to support them when the big banks have let them down.'

A lack of automation is one of the ways Henderson says his bank is able to lend to those sent packing by the big boys. While the large banks leave it up to their software to sift through loan applications (insert 'computer says no' quips here), Henderson's team of underwriters go through each application with a fine-toothed comb.

'Big banks have got to try and make all debt look the same,' he explains.

'They'll put applications in the hopper, the hopper shakes around and if loans fall out the bottom they'll approve them – if it sticks to the sides for whatever reason, the easy answer is no. There could be a whole bunch of reasons why a system will flag something up – it's our job to understand the reason for the flag and ultimately, try and prove the loan.'

Henderson understands the need for caution when lending, but he's proud to say only three loans in Shawbrook bank are in arrears. He puts this down to the combined wisdom of his team.

'My colleagues don't like me saying it but most of my staff have either grey hair or no hair – we've been through this cycle and we know what to look for.'

Aside from a few greys, something else was helped Shawbrook bank into the position it's in now, the government's much-maligned Funding for Lending Scheme (FLS). While the headlines call the drive a failure, Henderson is quick to defend it.

'Typically the bigger banks say FLS is failing as big bank data shows net shrivelling, but if you look at the challenger banks – we're the ones taking advantage,' he says.

'It gives me cheaper access to funding which allows me to pay pretty decent interest rates to depositors – which is why they come to me. This in turn helps me to lend more out.'

Unusual praise for one of the coalition's many strategies to stir up economic growth – but how about business secretary Vince Cable?

'It's not up to me to comment on how good or bad politicians are at their jobs but they do recognise one thing – it's unhelpful for the UK to have all of the banking concentrated in five institutions. Challenger banks do get support but we don't want it to be easy – we're happy to go against the big guys and nibble at their ankles – all we want is increasing recognition there is a choice.'

Playing David to the big five's Goliath is no mean feat. The Shawbrook boss has the privileged position to have experienced the banking industry from both sides of the fence – but how does he really feel about starting from square one, at what is essentially a startup?

'I had a lot of exposure to the bank before I joined and I did my due diligence,' he says pragmatically.

'But there is certainly a more limited infrastructure in place. Saying that, it is a business where you get your sleeves rolled up and your fingernails dirty and that's what I love about it. At Shawbrook you can see the difference you make much more quickly and you have the control to make things happen. If it makes sense, if it stacks up – you do it.'

Being freed from the shackles of bureaucracy sounds like many a chief executive's dream. And while Henderson admits he's working flat out, he still has time to play taxi for his two daughters and even catch the odd concert.

'Work tends to consume your life but you've got to have things outside – family and music are what I escape to.'

And what was the last gig he went to see? 'I saw the Pixies last week,' he grins. How very rock and roll – maybe there's more rebel in there than we thought.