Rebirth of the pools
The football pools relaunches today. In the battle for punters' pounds, can it force an away win?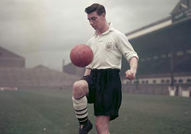 Sportech, the company that owns the three main pools operators – Littlewoods, Vernons and Zetters – today launches the New Football Pools, kicking off with a £6m promotional campaign.
It may prove an uphill struggle for Sportech, whose franchise lies fairly low in the league table of gambling games. At its peak, the pools was played by 10m people and occupied a central part of the Saturday routine. Now it's played by only 700,000. In terms of decline, it's on a par with Leeds United's.
Indeed, the premier league of flutters now belongs to online gambling – a hugely popular phenomenon driven by the broadband boom and hefty marketing muscle – and the National Lottery. While the former draws the hardened gamblers, the Lottery mops up the casual family market, with its user-friendly system. Just picking six numbers is perhaps more appealing for the casual gambler than the old pools trauma of spending an hour watching Grandstand's bleeping vidiprinter, waiting to see who won out of Doncaster and Barnsley.