Recession is here - but cheer up
A top economist says we're already in recession - but it should be a short sharp shock rather than prolonged pain...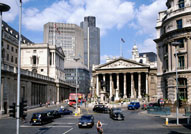 The UK economy has 'deteriorated dramatically' in recent months and is now in full-blown recession, according to The Ernst & Young Item Club. The economic forecaster – which uses the same model as the Treasury – is now predicting that the UK economy will contract by 1% next year, as rising commodity prices, restricted access to finance and the volatility in the stock markets take a huge bite out of company profits. However, the Item Club also thinks the economy will return to growth in 2010 (albeit a measly 1%) - so it's not all doom and gloom.
The idea that the UK is already in recession is unlikely to come as much of a shock to anyone, given the recent falls in retail sales, employment and business confidence (quite the reverse, if anything). But according to the Item Club, we shouldn't panic just yet. Even if the recent state rescue plans are unlikely to prevent us enduring a painful next 12 months, they should eventually restore some kind of stability to the banking sector. And with falling commodity prices pushing down inflation, allowing big interest rate cuts, it should mean a 'relatively short and shallow downturn' for what is a 'fundamentally strong economy'. By recent standards, that's a pretty cheery prognosis…
Of course, the Item Club was keen to make the point that this is very much a global problem – and since the UK is so reliant on the international money markets, recovery is bound to be a slow process as everyone puts their house in order. Just this weekend, amid talk of the US suffering its worst recession for 30 years, South Korea set aside $130bn to shore up its banking system and the Dutch government injected $10bn of capital into its banking champion ING. And this morning, Sweden launched its own financial stability package, announcing a $205bn programme to increase liquidity and bolster balance sheets within its financial sector, while the ECB reassured investors that it would 'always do what is necessary'.