Recession is official - and it's worse than we thought
As UK GDP declines by a worse-than-expected 1.5%, John Thain reminds us how we got into this mess...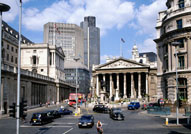 Britain's economy shrank by 1.5% in the fourth quarter of last year, according to figures released this morning by the Office for National Statistics, a steeper drop than most analysts were expecting. It's also the second consecutive quarter of decline, officially confirming what every man, woman and dog in the country already knows: that Britain is now in a very painful recession. With every single economic indicator heading in the wrong direction (industrial production, services, construction output), our prospects for 2009 look increasingly grim. How about that for a nice cheery end to the week?
The 1.5% decline, which follows a 0.6% decline in the third quarter, was well below the 1.2% consensus forecast, showing that the economy is in even worse shape than everyone thought. But that doesn't come as a great surprise – already this week we've seen unemployment leap to almost 2m, manufacturing confidence sink to a 50-year low, and sterling plummet to a 25-year low against the dollar. Meanwhile British banks have lost further billions in value, despite the latest bailout, and economists have been queuing up to tell us how bad things are. The Treasury's worst case scenario was for a 1.25% fall in GDP in 2009 after a slight recovery in the second half – but this now looks ludicrously optimistic…
Meanwhile another high-profile head has rolled in the banking sector: it's apparently been 'mutually agreed' that John Thain, the boss of Merrill Lynch before it was swallowed up by Bank of America, is to leave the group just a month after the $50bn merger. After Merrill reported a whopping fourth quarter loss of $15bn, Thain's exit isn't entirely unexpected. However, what is pretty shocking is the news about how he spent his last few months at the top table: the FT reports that he rushed through about $4bn in discretionary bonuses to Merrill bankers in December, three days before the BoA merger went through. Given that $15bn loss, it's not entirely clear what they were being rewarded for…