Recession woes force Eastern Europeans to flee home
Working in the UK clearly doesn't have the appeal it used to for Eastern European migrants...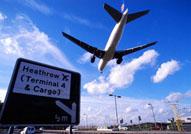 If the weather wasn't enough to send foreign workers scampering back home, the recession has apparently done the trick. According to the Office for National Statistics (ONS), the number of Eastern European workers leaving UK shores has almost tripled from 25,000 in 2007 to 69,000 in 2008. And you can't blame them – unemployment is still rising and competition for work is fiercer than ever, yet the cost of living continues to rise, and a pound doesn't go as far as it used to. Recessionary Britain isn't an easy place to live, even on the rare occasions that the sun's shining…

The ONS figures show it's not just Eastern Europeans leaving Blighty: the total number of non-Britons departing these shores rose by 50% from 169,000 in 2007 to 255,000 last year. But at least half this rise could be ascribed to people from Poland, Hungary, the Czech Republic, Latvia, Lithuania, Estonia, Slovakia and Slovenia making a getaway as the recession deepened. The recession seems to be succeeding where right-wing newspapers have failed…

On the other hand, the figures also show that around 590,000 people came to live in the UK in 2008, a rise of 16,000 on the previous year and just short of the record 596,000 arrivals in 2006. This would seem to suggest that things aren't thought to be quite so bad in the UK that people don't want to come here at all; perhaps for some it just fails to live up to expectations when they arrive. But clearly, many do stay: the figures show that foreign migrants now account for a third of the population of London.

Never knowingly missing an opportunity to clamber onto a soapbox, the Tories have been quick to seize on this particular stat, blaming high levels of immigration for the pressure on public services. Of course there was no mention of the positive impact of migrant workers on the economy – a few months ago, think-tank IPPR argued that skilled migrants add so much value that we should bribe them with tax-breaks to stay in the country. But with government coffers looking decidedly depleted, that's not going to happen any time soon. And with the easy money (and jobs) no longer on offer, we can expect to see longer queues at Heathrow's check-in desks for a while yet.

In today's bulletin:
Dubai debt crisis puts the whole world in a spin
Carphone Warehouse rings up bumper profits
Recession woes force Eastern Europeans to flee home
MT Exclusive: Entrepreneurship can solve youth unemployment, says Rod Aldridge
Psychology at Work: How to spot an office liar