The recession's behind you! Oh no it isn't...
Small businesses are optimistic about the economy, says one survey. There's worse to come, says another.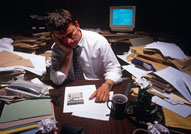 According to a report this week from BT Business, 75% of small businesses believe the economy will see an upturn in 2010, with 35% expecting improvement as early as January. But just as we're about to break out into a patriotic toast, along comes insolvency crew Begbies Traynor saying we can expect a 'deluge' of business failures in the coming months.
From bubbling confidence to Biblical warnings - the current business environment would scarcely be more confusing if a plague of locusts descended from the sky and started running the stock market.