The recession's passing, says Google
Google's profits are up and it's saying the worst of the recession is over. But should we listen?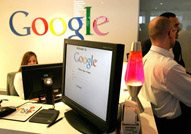 Those canny tech folk at the Googleplex will be dousing their beanbags with Champagne today - the web giant has just posted quarterly profits of $1.64bn. That's its highest ever profit figure, and up 27% on this time last year. Revenue for the three-month period hit $4.38bn - way ahead of analysts' expectations of $1.29bn.
The news follows Intel's chipper announcement earlier in the week that the PC market was exiting the recession, after it too posted profits that beat expectations.
Of course Google has always been in a pretty strong position - it's one of the world's coolest brands, with a global reach and no major competitor now that Yahoo's challenge has practically imploded. But even it has had to fight for its impressive figures. Google has worked hard to scale back programmes, close offices, and rein in its spending, even cutting back on its renowned professional chef-staffed cafeterias. Heaven forbid they should have to eat sandwiches like the rest of us.