Reckitt Benckiser distances itself from Tesco row
Reckitt Benckiser has insisted that it didn't actually criticise Tesco last week. Well, not really...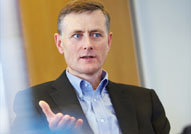 MT readers may recall that on Friday we ran a story about an FT interview with Reckitt Benckiser boss Bart Becht, in which he seemed to suggest that Tesco's move to extend its payment terms to 60 days could have a damaging effect on smaller suppliers. However, Reckitt has since been on the phone to insist that we take the piece down, arguing that Becht wasn't having a go at Tesco at all.
As we said in the original piece, Reckitt isn't one of the suppliers affected by Tesco's latest move. In fact, the company insists that Becht was merely responding to a theoretical question (what if Tesco extended Reckitt's terms to 60 days) with a theoretical answer (that it wouldn't be 'reasonable' given how rapidly they turn over its inventory) – it wasn't making any comment about Tesco's behaviour to suppliers more generally. Nosirreebob.
It's not actually contesting the quote printed by the FT (which notably is still running both the original story – albeit slightly amended – plus another longer piece): 'The question is [if] in the long-term they drive smaller suppliers out of business; that is the key question, and it might happen,' or the suggestion that the only reason for any such move would be to 'squeeze more out of the suppliers'. However, it insists Becht was talking solely about their own, high-turnover, household goods sector – not the lower-turnover consumer durables suppliers (TVs, microwaves and so on) affected by Tesco's decision.