Reckitt Benckiser forced to cough up £10m for market abuse
Reckitt's Gaviscon Advance scam has led to an eight-figure fine - but it could have been worse.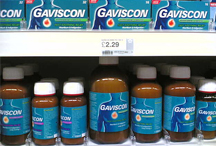 Embarrassment for Reckitt Benckiser: the household goods giant has just been fined £10.2m by the Office of Fair Trading for anti-competitive behaviour. The regulator ruled that it abused its dominant market position by replacing Gaviscon with a slightly different version, just as its patent was about to expire (leaving it open to competition from generic competitors). It's a hefty sum - but since technically the OFT could have fined it about 70 times more than that, Reckitt may not be too displeased...
The case, which was first brought by the OFT in February (following a Newsnight probe in 2008), is all to do with the way the NHS buys drugs from its suppliers. Once a patent has expired, doctors can prescribe generic alternatives instead - this naturally increases competition and pushes the NHS's costs down. But it's not ideal for the drugs companies, whose revenues suddenly take a dive. So when Reckitt's Gaviscon Original patent was about to expire, it simply replaced it with a new Advance version instead; since this is patent protected until 2015, that means doctors had no way of prescribing an alternative.
Reckitt hasn't denied any of this; in fact the OFT said today that the comapny had admitted infringing UK and European competition law, and that its admission and decision to co-operate had resulted in the fine being reduced from £12m. Its only defence appears to be that at the time, it didn't realise this little wheeze was illegal; that this had only become clear since via various test cases. You'd be forgiven for thinking this sounds a bit mealy-mouthed. Yes, this is a complex area of the law. But isn't that why they have expensive lawyers, who are supposed to know about this stuff? (Besides, even if they weren't sure of its precise legality, they must have known that it was a bit dodgy.)
Just about the only good news for Reckitt in all this is that the fine wasn't higher. Technically, the OFT is allowed to fine firms up to 10% of their turnover for market abuses (although ion practice, it never does). In Reckitt's case, that could have meant a penalty of over £700m. That really would have been a bitter pill to swallow.