Record online sales bring Christmas cheer for retailers
If you're reading this in your lunch hour, you're probably on a break from internet shopping...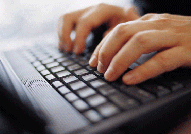 After the doom and gloom of recent months, it's about time retailers had some good news. Many high street stores may still be feeling the pinch, but things certainly appear to be looking more cheerful online: IMRG, the trade body for online retailers, reckons that internet shoppers will spend more than £5bn this month – an increase of 14% year on year. What's more, it reckons that today will be the busiest online shopping day of the year, netting £350m of consumers' cash. But with all the Royal Mail related post palavers of late, let's just hope they get there in time…

The signs are certainly positive for online retailers. The British Retail Consortium reports that sales over the internet were up 17% last month compared to November last year. And there should be even better news to come: the first Monday in December (or 'Cyber Monday' as we should apparently now call it) is historically the busiest internet shopping day of the year. Presumably that's because everybody realises that if they're going to have any chance of their gifts arriving this side of Christmas, they'd better get a move on.

While we like to be considered a relatively upbeat bunch here at MT, we should probably point out that while online sales are up, they still represent a tiny minority of overall retail sales – around 4%, to be precise, according to official stats. That said, times are a-changing: research from IMRG claims that 93% of shoppers were planning to shop online for Christmas presents this year. This may seem rather at odds with the previous statistic, but we suppose that even hardened high street shoppers (if such a species still exists) might decide to steer clear of the crowds by doing their festive shopping from the comfort of their own sofas.

Even if you're not a retailer, Cyber Monday is worth knowing about for businesses. If nothing else, statistically a large number of your staff will probably be be surfing for bargains today, so you might want to make sure they do it in their lunch hour (or not, as the case may be). Equally, you probably want to have your virus software up to date in case any greenhorn shoppers accidentally try and buy a new eReader from a site that's actually an elaborate phishing scam...

In today's bulletin:
The difficulties of Darling's banking bonus super-tax
Record online sales bring Christmas cheer for retailers
Editor's blog: Mandelson's Cadbury sabre-rattling
Amazon vouchers up-for-grabs in our online survey
MT Expert's Ten Top Tips: Use your data to improve customer service