Record UK car sales reflect road to recovery
New figures out today show that new car sales in the UK hit 2.26m, up 10.5% on the year before and the highest level since 2007.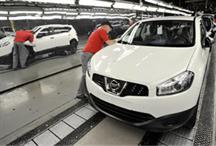 Another indication that 2013 in Britain was better than many of the figures suggest – this time from the Society of Motor Manufacturers and Traders. Despite ongoing pressure on incomes new car sales boomed as punters tired of austerity and opened their wallets for a shiny new set of wheels.

No fewer than 2.26m new cars were sold here last year – only 300,000 fewer than the highest ever figure, for 2003, and just 6% shy of 2007 total. So along with booming house prices especially in the South East, these numbers suggest that a consumer-led recovery is well under way even though wages and incomes are still falling in real terms.

The appeal of a new car is mostly that of status – in most cases your old banger will still get you around just as well – so rising confidence must be a big factor in this increase. It also indicates a big difference between the UK and most of the rest of Europe, where car sales are still in the basement as economic woes multiply. Even in the mighty Germany sales fell.

But one man's recovery is another's credit-fuelled spending bubble. Most of these new sales are private purchasers buying on tick, as your Mum used to say. Car makers desperate for sales have been luring British punters into the showrooms with some very tasty finance deals, offering low deposits and monthly payments – although often with an unexpected 'balloon payment' sting the tail at the end of the contract.

What's more, the nation's care dealers have been given an unexpected boost by the banks, in the shape of all those PPI payouts. The average compo payment of £3,000 being just enough for the deposit on a new car. Probably the single most effective piece of economic rebalancing achieved to date, albeit by accident. Who says our banks don't do enough to encourage business?

More evidence that the debt-loving British public is feeling more confident (or returning to its bad old habits, depending on your point of view) comes from the fact that household savings levels continued to fall last year.

Still, it would be churlish to deny the UK's car makers and dealers – both more badly hit by the recession than many industries – their triumphant return to form. Vroom vroom!