Recovery could be 'worse than recession' for SMEs
HSBC says that contrary to popular belief, the problem is that small fims just don't want to invest...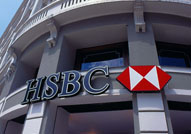 Just when they thought the worst was behind them, it appears that small businesses aren't out of the woods just yet. Throughout the downturn, business leaders have been waxing lyrical about cutting costs to create lean, efficient companies. But now HSBC is warning that businesses can be too trim; that continual investment is vital if the company is to grow and prosper in the recovery. While there's obviously an element of self-interest here (yes, we are open for business!), HSBC may just have a point – you have to speculate to accumulate, and all that…

Most businesses will probably tell you here that the problem is one of supply, not demand; i.e. the banks aren't lending to SMEs. But according to HSBC – which would say this, admittedly – it's more that small firms are not particularly interested in borrowing cash. Its research found that 80% of small businesses reckon they 'don't need money', either because they've tightened their belts during the recession and are managing their cashflow better, or because they're pouring their own cash into the business. Hmmm.

Running a tighter ship is obviously a good thing. But HSBC is obviously right to say that small firms could be limiting their growth prospects by not investing adequately in the business (and its bad news for HSBC's small business division too). Although the downturn demanded a short-term 'every-day-is-a-fight-for-survival' mentality, it's now time to go back to thinking long-term about the future and development of the business, the bank insists. Maybe - but that's a lot easier said than done, in practice.

Of course, HSBC readily admits that there some companies are still desperate to borrow from the banks – although apparently, more than two-thirds are just looking for working capital, not investment cash. And the Forum of Private Business reminded us today of one reason why: SMEs continue to struggle with invoices being paid late, or not at all (one problem, according to the FPB, is that the creation of 'phoenix' companies after a pre-pack deal often leaves creditors, including small firms, out of pocket; so it welcomed news of the OFT's probe into the UK's dodgy insolvency practices). We're sure many big companies suffer in these circumstances too – the difference is that for a small firm, it might just be the final nail in the coffin.

In today's bulletin:
Walsh takes the controls as BA and Iberia agree merger
Waitrose thanks arch-rival M&S for free advertising
Porsche's profits go into reverse after dodgy engineering
Recovery could be 'worse than recession' for SMEs
Bad bosses driving away staff - the CMI responds