Recruitment, the Spurs way
The board of Premiership team Tottenham Hotspur look as though they will finally get their wish to bring in Spaniard Juande Ramos as manager – but it's been a textbook example of how not to run a recruitment process.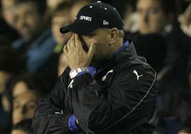 In August, the directors clearly decided it was time to review their manager's position. Their apparent doubts about Martin Jol's ability to take Spurs to the next level (after two successive fifth-placed finishes) may seem harsh. But they were perfectly within their rights to look at their options.
Unfortunately, they weren't exactly discreet about it. Having identified Sevilla coach Ramos (winner of five trophies in 15 months) as an ideal replacement, Spurs' vice-chairman was then caught red-handed meeting him in Seville – before the present incumbent even realised his job was under threat.
And to make things worse, the club was so embarrassed about being caught with its hand in the cookie-jar that it failed to have the courage of its convictions – instead it panicked and started back-tracking, granting Jol a stay of execution. But with the manager clearly a dead man walking, this was only delaying the inevitable.