Red-faced Tesco feels the pain of the business cycle
Tesco managed to pay a supplier almost £1m for six bikes. Someone's getting a rocket in accounts...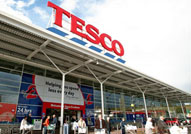 Some red faces at Tesco HQ this morning, after news emerged that Britain's biggest supermarket accidentally paid one of its suppliers almost £1m for six bikes. Universal Cycles, which is owned by Mike Ashley's company Sports Direct, has apparently paid back most of the cash but is holding on to the final £120,000 – so Tesco is taking them to court to get its money back (plus interest, plus costs). It remains to be seen whether this will actually make it to the courtroom. But the £164,000 question is: what's happened to the poor soul in accounts who managed to put an extra three noughts on the cheque?
Tesco was supposed to pay Universal £984 for the six Muddy Fox Suspension Bikes, which it bought in August this year. But someone in its finance department managed to overpay by a factor of thousand – meaning the bikes cost a rather steep £984,000, or £164,000 each. Admittedly Tesco's accounting is an enormous and fearsomely complex operation, but that's still a fairly remarkable cock-up (remember that one next time you think you've had a bad day…)

When Tesco realised the error, it wrote to Universal and requested the money back – which it got, minus about £120,000. The Essex-based outfit claims that Tesco owes it all this money for other transactions, so it's refusing to cough up any more. But the giant retailer begs to differ; it wants the courts to force Universal to pay back the lot, plus an eye-watering rate of interest of 8%.

Unfortunately for Tesco, Universal's owner Mike Ashley is not exactly the type to go quietly into the night. And let's face it, given the various travails he's having elsewhere in his business empire – at Blacks Leisure, for example – he probably wasn't too disappointed to find an unexpected £1m nestling in his bank account. So he's likely to drive a hard bargain.

We can see why Tesco wants its money back – even if you're richer than Croesus, a million quid is still a lot of money. But we suspect it may not fancy a protracted courtroom battle, both because of the potential for embarrassment over its accounting practices, and the potential awkwardness of suing a supplier. Equally, Ashley probably doesn't want to be losing expensive court cases at the moment. So a settlement might be the best bet all round.
Although even that might not be enough to save the blushes of whoever was responsible. Let's hope they're not clearing their desk even as we speak...