Red-letter day for Royal Mail? UPDATED
The Cabinet is mulling the future of the Royal Mail. Will it deliver much-needed change?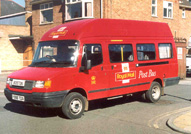 UPDATE 15.50
Business secrtary Lord Mandelson has confirmed that the Royal Mail is to be part-priivatised. He also confirmed that an expression of interest has already been received from the Dutch TNT group. The business secretary said that the move was necessary in order to safeguard the long term future of the UK's universal postal service. A mminoriy stake is expected to be sold. and as part of the deal the government will take on an undisclosed portion of the Royal Mail's £7bn pension deficit.