Red tape to blame for 50% of SME failures
The regulatory burden is apparently proving too much for some of the UK's small businesses.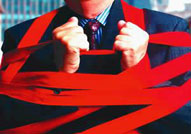 Excessive regulation is not only hampering small business growth and development, but also in some cases forcing firms to down-size or close, according to the Federation of Small Businesses. The lobby group reckons that almost 300,000 jobs could be saved just by putting a stop to all new business regulation and simplifying red tape. With bad debts still escalating and concerns over bank lending still prevalent, more new rules – like the last bits of the Companies Act, which came into force this week – are the last thing small firms need. But although they've made their feelings very clear to the Government (whose own figures show that 60% of businesses think regulation is a major obstacle to success), things clearly haven't got any better...

According to the FSB (which interestingly, is issuing this just before the Tory conference rather than the Labour equivalent; a sign of which way the wind is blowing), the Government needs to move fast and simplify lots of the employment regulations – notably maternity and discrimination rules, and health and safety legislation. By making it easier for firms to employ people, the FSB reckons that over 250,000 jobs could be created; and since it would also prevent some firms from going under, it could save about 50,000 jobs too. With unemployment still raging upwards, these are the kind of vote-winning numbers that politicians like.

Meanwhile entrepreneurs still have lending woes to contend with. In its quarterly Credit Conditions Survey, the Bank of England said yesterday that the availability of credit to businesses was improving – but this has been challenged by both the British Chambers of Commerce and the FSB. In fact, an economist at the BCC told The Times that its members are still having serious difficulty obtaining access to finance, which we suspect will come as a surprise to precisely nobody.

And one of the reasons why businesses need this credit is that they're not getting invoices paid. Research from Bacs earlier this week claimed that British businesses are now owed over £30bn in late payments, while the number of firms complaining about this scourge has shot up by 65% since last year. The good news is that the average amount owed has fallen from £38,000 in 2008 to £28,000 – unless of course that's indicative of a fall in business activity, which isn't so good. While most small firms are opposed to the idea of extra red tape, beefing up the rules on late payers might go down very well indeed.

In today's bulletin:
House prices up - but so are insolvencies
Gem of Tanzania loses its lustre for builder
Red tape to blame for 50% of SME failures
British bosses bad at giving bad news
Avoid over-elaboration, with YouTube