Red tape is set to stick, says small business
SME owners fear the Government's drive to cut red tape is doomed to fail. And that's before Nick Clegg dropped the scissors.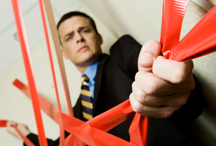 According to the Forum of Private Business, only 28% of SME owners believe the Coalition government can make the blindest bit of difference to the maze of regulations they face.
Some 40% of respondents said they didn't think the Coalition would significantly reduce the amount of legislation threatening to suffocate small firms, while the remaining 32% said they didn't know whether they'd manage it or not.
That's hardly a ringing endorsement for our leaders, who came into power proudly brandishing their anti-red tape metaphorical scissors. In July, for example, Nick Clegg was harping on about the Freedom Bill, which pledged to 'strip away the excessive regulation that stops businesses from innovating'.