Regulator gets tough - and so does Dave
As the FSA chairman warns of a stricter regime, David Cameron is back on the offensive against the PM...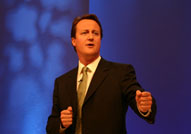 Tory leader David Cameron used a speech to the City of London this morning as his opportunity to stop being nice to Labour, launching a stinging attack on Gordon Brown's handling of the economy. He criticised the PM for 'irresponsible government' and 'false assumptions', and accused him of a 'complete and utter failure' of policy. He also called for regulators to have greater power to keep the banks in line – and judging by FSA boss Lord Turner's comments today, he's preaching to the converted...
In an interview with the Guardian, Lord Turner said the FSA would be taking a much harder line in the future. 'There is no doubt the touch will be heavier,' said Turner – in other words, he's drawing a line under the old 'light-touch' regime, which basically involved the FSA keeping out of the way as much as possible (and was, to be fair, used as a template by regulators around the world).
Turner suggested that in recent years, the FSA has not had enough clout to stand up to the big banks, or to their demands for less red tape – but the political wind has well and truly changed: 'Over-regulation and red tape has been used as a polemical bludgeon. We have probably been over-deferential to that rhetoric,' he eloquently admitted. Now he plans to recruit a new generation of regulators, even if that means hiring lots of expensive ex-bankers. 'Poachers turned gamekeepers are very attractive to hire,' said Turner. 'The FSA, in relation to systemically important firms, was trying to do regulation on the cheap.'