Religious minefields
Faith could be the latest diversity hot potato for American companies. The trick to avoid diplomatic incidents is to be 'faith-friendly' rather than 'faith-based', says a new report published by the Conference Board.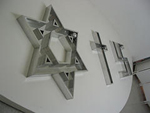 Over the last few years, religion has crept into US businesses in more ways than companies know how to deal with: affinity groups, prayer breakfasts, corporate chaplains, email signoffs with scriptures, specific food requests at the company canteen.
In many cases companies have tried to avoid the issue entirely, but David Miller, executive director at Yale Center for Faith and Culture says that this is a mistake.
Miller argues that companies should welcome all traditions and put them on an even playing field by creating a culture of respect, diversity and tolerance. Acting faith-friendly would thus differ from a faith-based approach in the sense that no religion is privileged over any other or embraced at company level.
With globalisation and immigration, US companies are exposed to greater diversity and different approaches to faith. "Not demanding that one's spiritual side be checked at the door can provide employees with access to a tool to help deal with their emotional and spiritual needs," notes the report.
The report also notes that the crucial issue for companies is to be consistent with faith in the workplace. Useful considerations include whether the policy will promote further integration or division, whether it will cause or prevent lawsuits, and whether staff will see it as a positive rather than negative trait of the company.
Source: Faith at work is no longer taboo
Executive action No 217, The Conference Board
Review by Emilie Filou