Relying on intuition - should you always trust your gut feelings?
Intuition can give people the vital - even life-saving - ability to make decisions that are fast and right. But how reliable is it? John Morrish on the new insights psychologists have into our sixth sense.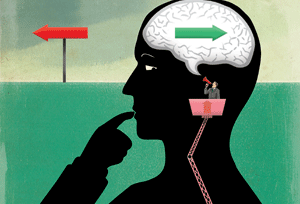 Steve Jobs based his career on it, but Bill Gates used it too. Richard Branson is a big fan. It helps Alan Sugar pick his Apprentices; it helped Einstein devise the theory of relativity. It is intuition - and its importance in management is growing all the time.
Intuition - which some call a 'gut feeling' or a 'hunch' - has been discussed in philosophical and scientific circles since the 17th century, and has often been considered mystical or paranormal: a 'sixth sense'. For the past 30 years, however, it has been the subject of intense scientific scrutiny in departments of psychology, economics and management. They have agreed, mostly, on what intuition is. It is a form of thinking that is 'non-conscious': you know things, but you don't know why. It is 'holistic': it sees the big picture. It produces judgements that are 'affectively charged': connected to our feelings, rather than our analytical minds. And, most usefully for our purposes, it is quick.
Steve Jobs took the mystical view of intuition, which he says he learned on his youthful trip to India. 'Intuition is a very powerful thing,' he told his biographer Walter Isaacson, 'more powerful than intellect, in my opinion.' Jobs's gut feelings dominated Apple, even when he was wrong (presented with the prototype iMac, he insisted it should be called the MacMan).